The school was founded by the Sisters of Mercy on 1 November 1925. In 1926, the church/school of St Therese was built in Royal Street, New Lambton some 200 yards from the present church. As was common at the time, it was a dual-purpose building being used for Mass on Sundays and for classes during the week.
It was similar in style to many others of its type —a simple hall capable of being partitioned into separate rooms with a chancel and sacristy closed off except during Mass.
A small porch was attached, and gable crosses proclaimed this to be a house of God. It served as the parish church from 1954 until 1956, when it was converted to serve, as it still does today, as a hall for the parish and school.
Crest & Motto
Motto: "Mercy, Be True"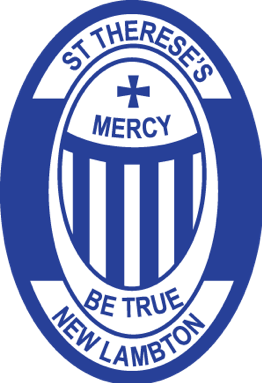 School Prayer
Oh God, my Father in Heaven,
I offer myself and all I do this day.
I join in the offering,
Your Son made to you on the cross.
Mary my Mother,
Help me to love God today.
St Therese's pray for us,
St Mary of the cross, pray for us.
AMEN