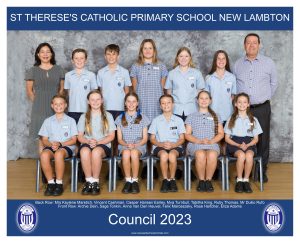 St Therese's aims to make clear the student leadership and election processes for students who wish to be considered for formal leadership roles. The roles include, school captains, school councillors and house colour captains.
In the Gospels, Jesus actively encourages children to take their rightful place in being "stewards" of our world. Our school believes encouraging student leadership ensures we are developing community leaders for the future. Opportunities to develop such leaders are provided through a range of learning experiences, both in their everyday school life and in targeted leadership programs.
At St Therese's we make every attempt to be fair and transparent, giving every student the chance to aspire to an official leadership role. Year 5 students participate in a Leadership Day that allows them to understand the role and the qualities of a leader needed to guide fellow students, assist staff and work within the school community.
Every student is encouraged to build their own sense of themselves as a leader. A wide range of formal leadership positions are available at St Therese's and are outlined in the Student Leadership and Election Procedures. These positions are in place for the benefit of the entire student body and the larger school community.
Elections are conducted by the staff but voted for by students who are members of the four Leadership teams within the school, Social Justice, Positive Behaviour System (PBS), Environmental and Active Lifestyle. All Year 6 students belong to one of the four teams mentioned above and serve the school and community in that area.
Areas of responsibility for all our Year 6 student leaders include; buddies to the Kindergarten students, technology team/setting up  assemblies, running of weekly assemblies, Anzac Day ceremonies, writing about student news in the bulletin, sporting events, upkeep of sporting equipment, lost property management, recycling and other environmental initiatives, mission days, fundraising and celebrating Mass for a number of reasons.
The formal leaders of our school have significant responsibilities that they adhere to, but all Year 6 students are considered leaders within our school community and work together to problem solve and represent our school in a positive and productive way.